Animal Themed Birthday Party
Animal themed birthday parties are a fantastic way to create a fun and exciting time, loved by both younger and older generations. We will bring along a wonderful range of exotic, unusual and cuddly animals to your party location. the location can be a house, garden or communal hall. It's an interesting twist on what we all think of when we think 'party'.
More Than Just Fun
Our Animal themed birthday parties are a fantastic way to bring people together, allow people to get out of their comfort zone and overcome phobias or just to interact with animals they do not usually see. Animal Club can support a small intimate party as well as larger events.  A wide variety of different animals are suitable for attending parties which means there is someone to meet for everyone.
Personal animal themed parties are delivered under the careful guidance of our knowledgeable rangers who make the party both exciting
as
well as very educational. They are able to answer questions, tell stories and share interesting facts about each animal that has been brought along.
Animal themed Parties are a great way to interact with more unusual species. In addition, studies show that introducing children to animals at young ages can help with compassion, interactivity, confidence. It also gets them more engaged in animal welfare.
Booking a Visit from the Animal Club
Animal themed birthday parties, corporate events, educational events and fetes. The flexibility of such events means that we cater for individuals, as well as groups needs. Animal Parties are also a great way to do something a little different that can be shared with family and friends. We will create lasting memories that you will look back on fondly. How many people can say 'I held a snake today' or 'I saw a vinegaroon today'? With plenty of photo opportunities throughout the day, book a party where the photos can include
guests with a range of animal species.
Animal Club rangers are DBS checked to provide peace of mind. We are also fully licensed and insured to carry out such events. Risk assessment
can be provided on request
If you are unsure whether the experience is something that is suitable for your group, please do not hesitate to visit our Booking Page.  Press here to contact us for more advice and information.
Animal Parties Extra Ideas
To make your party with us even more special the hiring of companies. Pottering Around can work alongside to provide facilities to paint plates, mugs and even gecko figures to give commemorate the special day. You can also add some extra magic with
Face Painting Sheffield who provides face painting and glitter tattoos. Or why not go all the way and book Hire Candy Floss to have your very own candy floss made at your party.
For those unable to have an Animal Party there are plenty of opportunities in and around Sheffield. You can visit many places to come into contact with some wonderful creatures. Places such as the Butterfly House just outside Sheffield with lemurs, birds of prey, wading birds, squirrels and butterflies it's a lovely outing for all ages. You can also hire a party room with discounted group tickets.
Birthday Parties with Animal Encounter Prices:
Party package
1st hour – animal handling experience – 1 hour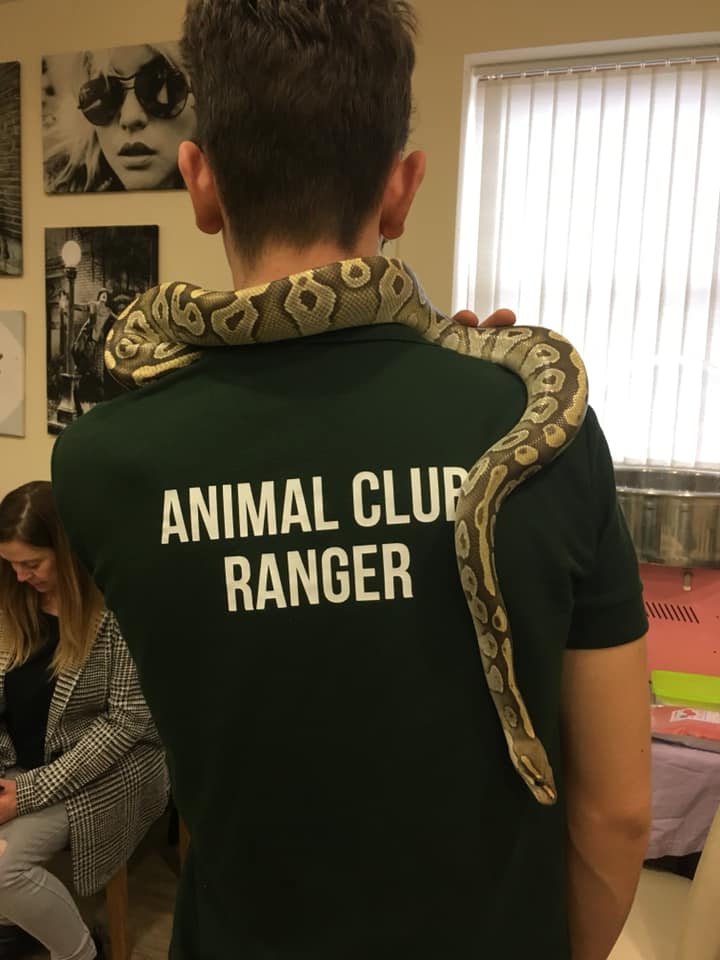 2nd hour – Face paint and candy floss – 1 hour
Total price: £200+ travel (from S3)
Party package PLUS
1st hour – animal handling experience – 1 hour
Ongoing Face paint and candy floss – 2 hours
Total price: £260+ travel (from S3)
Complementary themed related party bags can be ordered @ £ 4 bag
ADD Travel costs For the areas outside 30 minutes Google Maps radius from S3 there is a travel surcharge at 0.45 pence per mile.
For our cancellation policy, please press here.