Animal school visits, South Yorkshire
Animal Club brings you animal school visits, South Yorkshire. We also offer parties and events appearances. Out amazing, friendly and unique animals will help you to enchase any curriculum activities. From science and geography to creative writing and art. The value of the visit strength beyond academic learning. It teaches children as well as the adults to appreciate the beauty of nature, to accept that we as humans is only one of many species in our ecosystem.
The animals also offer great companionship and many organisations such as nurseries, special school, scout groups and care homes invite us to offer therapy sessions. Aside from animal school visits in South Yorkshire Animal clubs also can visit a party or a corporate event. The wow factor and life-long memories are guarantees. The responses from our customers were overwhelmingly positive: Nicole in Sheffield said 'You have made Peter's day' and Chloe in Rotherham emailed us to say 'Big thank you to the ranger and the animals. Children loved it'.
What Does the Visit Involve
All you need is to get in touch and decide on the location. As long as at the place is warm and has electricity it will work. Once booked, we will establish the aim of your booking and adapt to the visit accordingly. Our DBS checked knowledgeable ranger will visit your school, party or organisation and bring the visitors to you. So no hassle or time-wasting arranging complicated trips.

For example, we can focus on bug, reptiles or bring a different species and explore life cycles, differences in the species and their habitats. Each of our animals come with I ts own story, has it is very own unique character, and the range will tell you all about it to make the encounter special. For the younger audiences, we offer thematic shows related to books such as "Dear Zoo' or "Where is Spot'. We also have feely boxes to those visitors who are not ready to have a direct personal encounter with some of the creatures.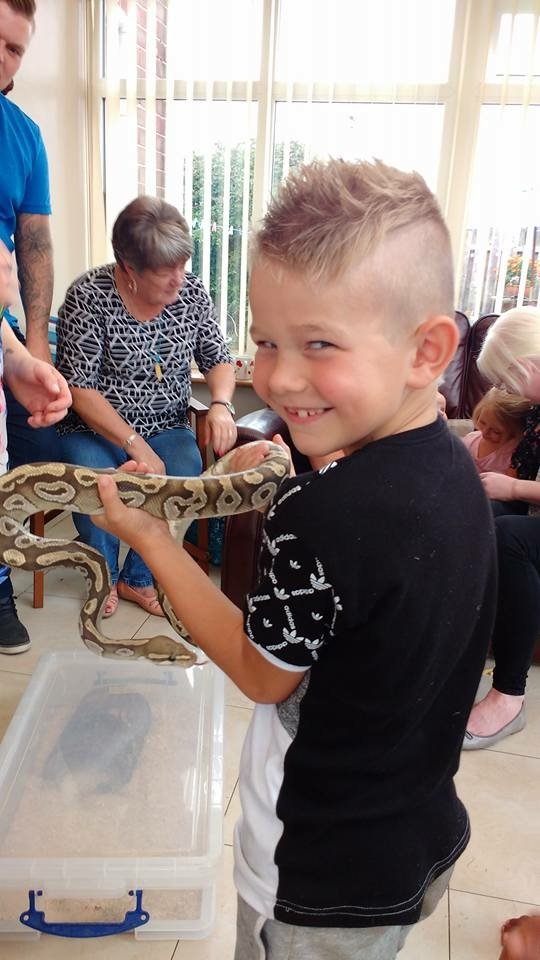 How to Book Us
Booking Animal Club is simple. No time cost associated with the organisation of the event and all you need to do is send your enquiry via our webpage or email to enquiries@animal-club.co.uk. For price info, please check here. We offer visits from 1 hour to a full day. You can download risk assessment and a 'Letter to parents' template, which we provided for animal school visits, South Yorkshire.