Non-venomous snakes do not possess any toxins that can harm humans, and typically do not have fangs. However, most snakes can become aggressive when threatened, and a non-venomous snake's layers of small sharp teeth can leave harmful wounds if you're bitten.
Can you tell if a snake is non-venomous?
There are no specific features that separate all venomous from non-venomous snakes. There are around 600 venomous snake species, and around 3000 non-venomous ones, so it's difficult to find completely universal characteristics that distinguish the two. You may have heard that venomous snakes have triangular shaped heads and thin pupils, or another similarly sweeping statements. However, some non-venomous snake species also have these features, so learning these rules will only result in harmless snakes being killed. The only exception to this caution is the rule that all snakes with rattles are venomous.
Generally, the only sure way to tell between the two is simply to memorise the native venomous snakes of your area. In North America, you'll probably only be dealing with 4 – 6 types. Once you can recognise their specific features, you can be pretty certain you can stay safe while in natural environments. In general, snakes won't attack unless provoked, so the best way to stay safe is simply to quickly move away from a snake, whether you're sure that it's dangerous or not.
Are non-venomous snakes less agressive?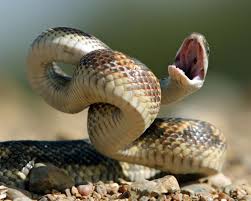 Most snakes, whether venomous or not, are not aggressive towards humans if they are left alone. Snakes of all kinds may become aggressive if cornered or touched. In terms of biting, some snake species will be more likely to bite when threatened than other species. This doesn't coincide with whether they are venomous or not though.
Do non-venomous snakes have fangs?
Most non-venomous snakes do not have fangs but instead small teeth. This is because fangs are specifically adapted to allow venom to flow along them, with grooves or a tubular shape. Since non-venomous snakes have no venom to direct, they do not require these adaptations. Their teeth are smaller than fangs, and curve backward for gripping their prey. These teeth are thin and can come out easily.
You may have heard the term 'rear-fanged' when describing the teeth of some non-venomous snakes. This is referring to grooved fangs which sit further back in their mouth. They only inject venom after the snake has fully grasped their prey. Although these snakes do have venom, they are called non-venomous as their venom is harmless to humans: it only affects their specific prey.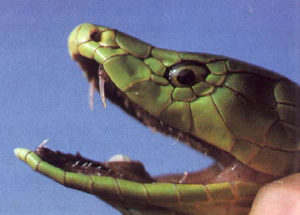 Are bites from non-venomous snakes dangerous?
Snakes of all kinds may become aggressive when threatened, and have the potential to bite. Since all snakes have teeth, they are all able to break the skin.
Since their teeth are found in layered rows, a bite from a non-venomous snake will leave many small teeth imprints. This will be less extreme than venomous snake bites with some minor bleeding and possibly some bruising.
Even if a snake is non-venomous, its bite can cause an infection. This can be fairly easily prevented by washing the wound with mild anti-bacterial soap.
So, bites from non-venomous snakes are harmful but not nearly as harmful as bites from venomous ones.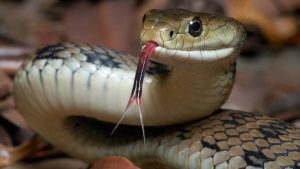 Animal-Club provides animal parties or animal handling workshop where your will be able to see, learn and interact with the reptiles and other wonderful animals with the help of our presenters. Our mobile zoo has many friendly animals such as rabbits, tarantulas, geckos, vinegaroons and more that will be perfect for an animal party. We can also come over to your school for an animal school visit or arrange for an animal workshop with us where the children can learn about animals and have fun too.