We've recently been discussing holiday gifting in the team and we've realized how important it is to find the right gift for our loved ones. Sustainability and eco-friendliness were two terms that were often brought up in our discussion. We are glad that a lot of people are taking the necessary step of considering the environment before buying holiday gifts. With growing awareness, we hope to see more brands come up with suitable gifting ideas which do not harm the planet. But if you are really looking for some fun, then nothing puts a smile on the face of kids than an animal party.
Our team brings in animals of your choice as per availability to the party. The children can handle the animals, pet them and learn about them. With experience, we've noticed that children quickly take to the animals and have lots of fun in such animal parties. The biggest advantage is that some of the animals that they get to handle animals which they may have otherwise known as dangerous or wild. With expert animal handlers overlooking the event, we ensure that the children get to learn about the animals. In most cases, the children realize that the animals are not dangerous but may act instinctively in response to certain stimuli.
The animal handling workshops that we conduct are focused on increasing likeability for the animals. At the same time, we hope to bring children and adults closer to nature by discussing the existing problems faced by these animals in their natural habitat. By driving awareness among the populations, we hope to bring about a change in the current conservation efforts around the world. Additionally, animal workshops are a great way of making the kids experience something different from the usual holiday celebrations.
4 reasons why kids love animal parties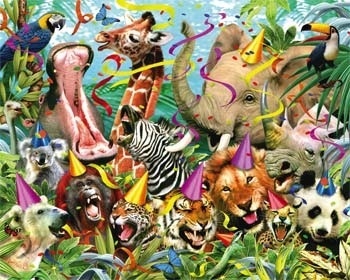 It is a new experience
The biggest reason why an animal party is a big hit with children is because it is an unusual experience. Unlike the usual holiday season activities, an animal party is an experience of a lifetime. They may handle animals which they don't get to see every day.
They get to talk about it with other friends
When children go back to school, they love to talk about the holidays. Because of their uniqueness, animal parties are great conversation starters. This is the case not just for kids but even for adults.
They handle animals which may have been considered dangerous
Some of the animals we bring to a party include different species of snakes, frogs, spiders and snails. Some may consider these to be dangerous but under the supervision of our animal handlers, you will enjoy the party.
They get to overcome their fear
Handling such animals is a very new and different experience for the children. They will be able to develop essential skills when it comes to interacting with animals. It also helps the children overcome any fear that they may have about animal handling.
From animal school visits to animal parties, we conduct a variety of events which can help children and adults understand animals. Many kids end up being afraid of animals because they have never interacted with them before. Through an animal party, we aim to help the children overcome their fears. We also talk about the problems animals are facing in their natural habitat. This includes talking to the audience about the animals and we bring to the party and their natural instincts. The better you know about animals the easier you will find handling and interacting with them. So if you are considering something amazing for the kids this holiday season, consider an animal party.