COVID-19 has greatly changed the way we lead our lives. These changes will be in effect for a significant period of time. Our activities in the public may be limited. It may also take some time before children return to schooling as usual.
As the world tries to cope with this pandemic, spending time in the quarantine becomes difficult for children. Kids love to be outdoors, play and enjoy at the park or the neighborhood sandbox. While parents cannot risk taking the children outside, Google has a solution that brings the jungle to your home.
What is Google 3D animals?
In 2019, Google announced that it will add Augmented Reality (AR) objects to its search results. These AR objects are intended to improve learning by helping users see objects in 3D. Since its announcement, Google has added lots of 3D animals. These animals can be viewed directly through the search results on supported devices.
Google's 3D Animals have become a favorite in many homes as parents try to find ways to keep the children busy. The reason why we like the 3D animals is because it resonates with our vision of fostering compassion towards animals. The list of animals that you can currently find on Google's 3D animals are:
Alligator
Cheetah
Ball python
Angler fish
Brown bear
Cat
Deer
Dog
Bulldog
Labrador
Retriever
Pomeranian
Pug
Rottweiler
Eagle
Easter Bunny
Duck
Emperor penguin
Giant panda
Goat
Horse
Leopard
Hedgehog
Lion
Macaw
Racoon
Shark
Octopus
Tiger
Shetland pony
Snake
Turtle
Wolf
All these animals can be viewed in 3D on your phone. They appear on your phone screen as if they are in your home. It makes them look real and children can even take photos next to them.
Follow these steps to view Google's 3D animals: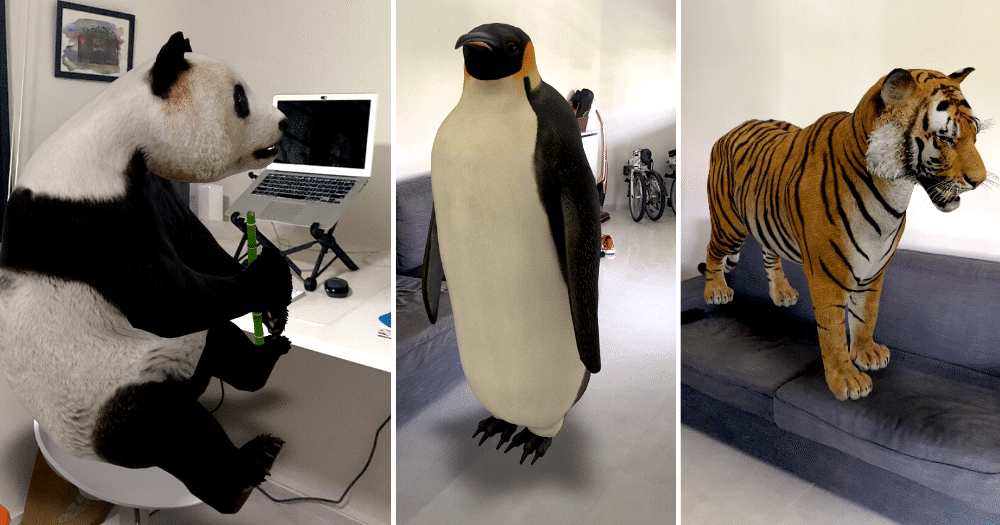 Step 1 – Open Google Search on your web browser.
Step 2 – Search for any of the animals from the list. For example 'Alligator'.
Step 3 – Scroll to the section where you see the image of a lion which says, "Meet a life-sized lion …..". Click on 'View in 3D'
Step 4 – If you have a phone that supports Google AR, then you will find the option to 'View in your space'. Click on it and confirm Google's access to your camera. You will automatically see the animal on your screen with your home in the background. It will appear as if the animal is really standing inside your house.
You can click photos alongside the animals and have your kids use the zoom and angle functionalities. They can learn how the animal looks up close and can also enjoy their time with those animals. While they play with the animal on the screen, you can talk about the animal's homes and the food they eat. For older kids, you can ask them about these animals and make it a fun and educational activity.
At Animal Club, we love to see children interact with animals on their animal school visit and animal parties. The existing COVID-19 situation has sadly, reduced such interactions for children. With no animal party to look forward to, we have been identifying ways to encourage virtual animal interactions among children. Google 3D animals have been one of the best ways to make it possible. For now, our animal handling workshops are paused. We encourage parents to keep their children busy through these virtual solutions till we return with our animal workshop.